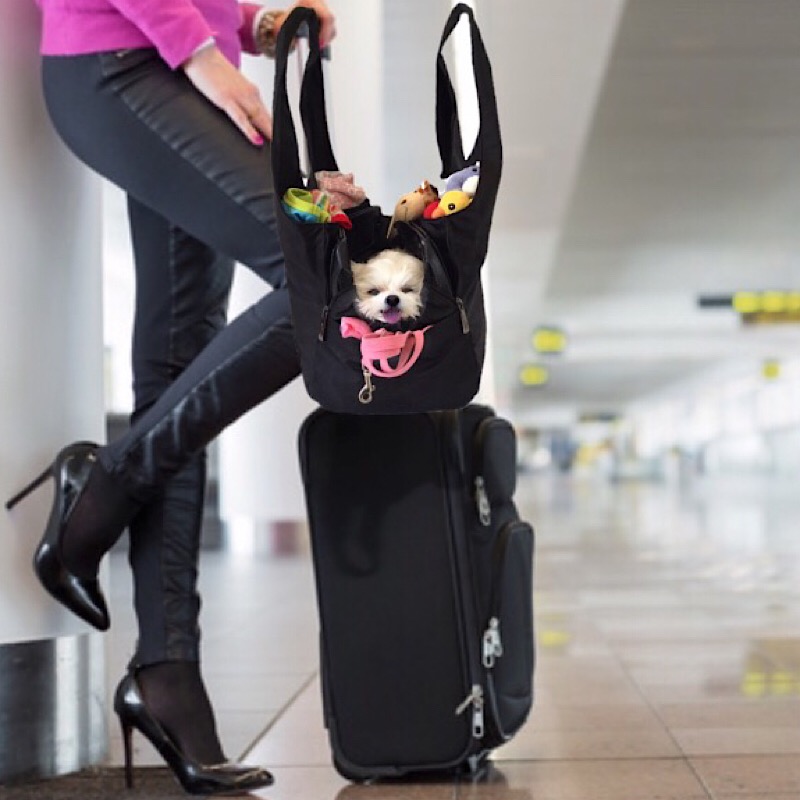 Easy Tips for Airline Travel with Your Dog
Your first airline travel experience with your dog can be tough, especially if they haven't been exposed to all the hustle & bustle in the airport, loud noises of the aircraft and being confined in a pet carrier. Even if your PupSize dog loves to travel with you in a car, it doesn't necessarily mean they would be the comfortable aboard an airplane.
On top of everything airline travel exposes them to, they are also feeling your anxiety and nervousness, associated with packing, getting to the airport, finalizing travel plans and any stress you have about their first airline trip.
After checking policies regarding your choice of airline and pet travel restrictions to your place of destination, here are easy tips for a comfortable airline travel experience with your lovable PupSize pooch:
Book your flight early
Since most airlines allow a limited number of pets in the cabin, on their flights, try to book your flight early for a sure "seat."
Flying direct is the best way to go
A non-stop flight will lessen the stress of traveling to your dog, especially on weekdays when airports are less busy. Summer mornings and evenings, and midday flights in winter may avoid extreme temperatures and may be the ideal times to travel by air.
Set an appointment with your vet
Go for a check-up to make sure your pooch is fit for travel and make sure all vaccinations are completed before leaving. Secure a health certificate 10 days before your departure date. For international travel, do your research on the country you're headed to for more information.
Purchase an airline approved pet carrier
He won't have a nice window view to distract him, especially if he's stashed under the seat, or worse, the plane's cargo hold. But don't fret.
Shop for a carrier that is right for your dog's size and make sure he is able to stand, turn and lie comfortably in it. The soft-sided variety is suited for carry-on and is more likely to fit under the seat, while hard-sided carriers with proper ventilation for larger dogs are ideal for the cargo hold. Make sure to check the size restriction of your airline to avoid any issues.
Once you picked out the right carrier, attach the proper labels like your dog's name and identification tags that include your home address, phone number as well as the address and phone number of the person who can be reached at your destination. It would be best to carry the most recent photo of your dog for a more effective search in case he gets lost.
For best results, have your pooch become accustomed to the carrier weeks before by driving around with him inside.
Pre-flight plan
Make sure to feed your dog four hours before departure to avoid any discomfort during the flight, but you can have him drink water up until boarding. Have him relieve himself at designated pet facilities before leaving. Arrive early with your dog's health certificate at the ready and it is recommended to check him in two hours before departure. Remember, it is not recommended to sedate your dog before takeoff to avoid creating health issues when he is exposed to certain altitudes. Consult your vet if needed.
Once you've arrived to your destination, take your dog for a long walk so he could stretch and be more comfortable from the flight as he takes in his new surroundings. As soon as you check in or arrive at the place you'll both be staying in, he'll be ready for whatever's in store for your vacation.
You must log in to post a comment.